OCTOBER CO-OP MONTH MEMBER APPRECIATION DAY!!
Around 250 members gathered for breakfast on Tuesday, October 4 to help us kick-off October Co-op Month at the Centennial Community Center in Stetsonville. Everyone enjoyed a warm breakfast and good conversation with friends and neighbors. The weather was fantastic, and members had the opportunity to test drive two electric trucks that were on display. Ryan Lemke from Medford Motors brought a Ford F-150 electric truck and Chippewa Valley Electric's Rivian was also on site. This year, in an effort to demonstrate the cooperative principles, we chose "Concern for Community." A basket was raffled off with all proceeds going to Taylor County Moving for a Cure. October is not only Co-op Month but also Breast Cancer Awareness Month. We were able to raise $425 thanks to the generous donations of our members attending the breakfast. Carla Smola was the lucky winner of the basket that was valued at $150. The check was presented to Carmen Thiede, chair of Taylor County Moving for a Cure, on October 10. The lucky winners of $30 electric bill credits went to: Donna Albers, Betty Ludwig, George Lukewich, Darlene Thompson and Sylvin Wenger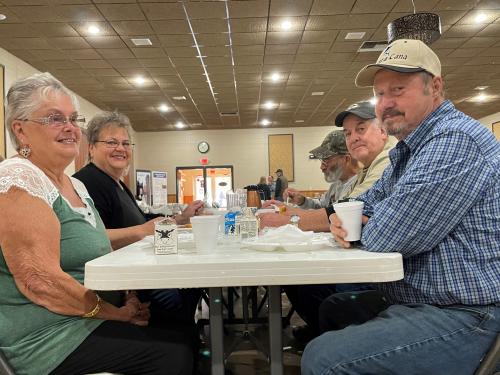 Guests included former directors Dave Mauer, seated in front across from his wife, Sandy, and Diane Albrecht, seated in back across from her husband, Bruce.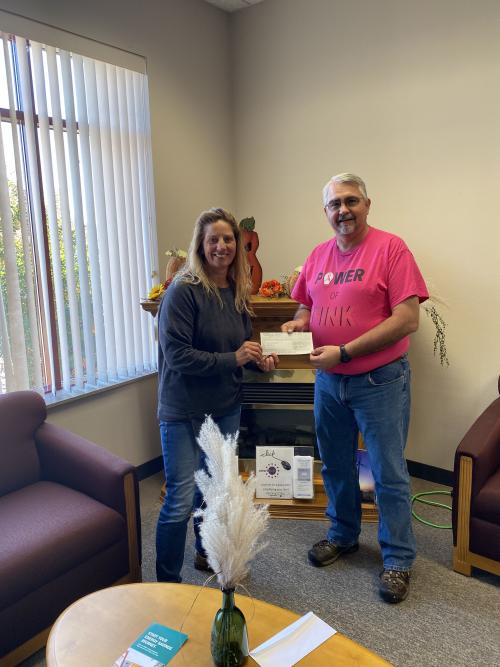 CEO Ken Ceaglske presents a $425 check to Carmen Thiede, chair of Taylor County Moving for a Cure